Biography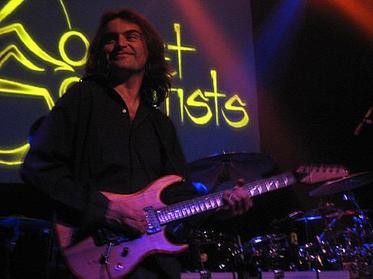 In 1994 Jimmy Williams was selected to be featured in Guitar Magazine's "Resume Column" and moved from St. Louis to Los Angeles to pursue a career in music. In 2000 Jimmy answered the call and joined Nuclear Blast Records Recording Artists Steel Prophet. In 2001 the band released the highly acclaimed albums "Book of the Dead" and "Unseen" and completed full tours of America and Europe. In 2003 "Guitar Concepts" a compilation of 10 demo songs was released by Progressive Arts Music.

In 2004, vocal metal project Vindikation recorded "Chamber of Discontent". This project was recorded and produced by keyboard wizard Erik Norlander and featured Jason McCrarey - vocals (Sanctus), Jimmy Williams - guitar & bass, Rob Rampley - keyboards/FX (Winds Died Down) and Karl Rosqvist - drums (Danzig, The Chelsea Smiles, Steel Prophet).

In 2007 Jimmy released his second instrumental guitar CD "Sonic Divergence" an intense journey through the many facets and styles of progressive metal. Later in 2007 he recorded acoustic and lead guitar tracks on the Rocket Scientists CD "Looking Backward" and in 2008 joined the band for a number of shows in Mexico, the USA and Europe. In 2008 he completed his third instrumental guitar CD "Acquiescence" a 12 song solo acoustic work.

In 2010 Jimmy moved to Taiwan to record, perform and tour with Asian pop stars Gary Chaw and Harlem Yu. This included a live television performance in 2013 on New Years Eve in Taipei, in front of an audience of 70,000 people. Other performances with these and other artists took place in Hong Kong, China, Malaysia and Australia. In addition to session work as a studio guitarist in Taiwan, Jimmy began composing music for television and film including music for National Geographic, NHK Television (Japan), PTS Television (Taiwan) and KBS Korean Television (Korea).

In 2014, Jimmy moved back to the USA and now lives in Los Angeles, California. He is currently composing music for film, television, commercials and music libraries produced in the USA, UK, Taiwan, Korea, Singapore and Japan.
---